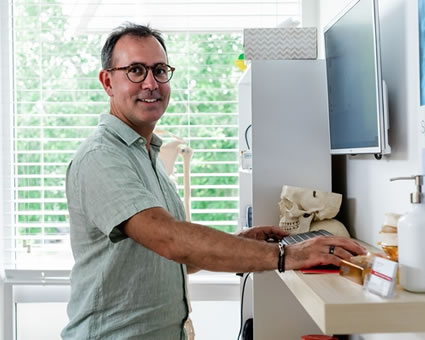 Meet Dr Roberto De Souza
The Decision to Become a Chiropractor
While at university, Dr Roberto studied pre-medicine with the intent of becoming a cardiac surgeon. However, when he came across chiropractic, he was immediately inspired. He changed his path and decided to enter chiropractic college.
Dr Roberto's training was undertaken at the fountainhead of chiropractic: Palmer College of Chiropractic in the U.S. It was the first chiropractic university founded and continues to be a leading educational institution.
A Wealth of Qualifications and Extra Training
The additional training Dr Roberto has undertaken include a three-year post-graduate course in Paediatric and Pregnancy Chiropractic. He also holds a Master's Degree in Health Education and Promotion from Western Illinois University. Passionate about teaching others, he works with businesses, corporations, schools and hospitals to improve their educational systems and empower people with the knowledge of how to be proactive in their healthcare.
I love to help people every day. The results of what I do speak miles to me.
Additionally, Dr Roberto has completed training in neuromuscular dry needling, which he uses as a complement to his chiropractic care. He has also studied functional medicine and has an interest in natural supplementation and how it can improve health.
EXPLORE OUR SERVICES »
Outside of Chiropractic
When he isn't in the practice, Dr Roberto can be found playing tennis with his sons or swimming in the pool or the beaches of the Sunshine Coast. He also loves preparing and cooking delicious and nutritious meals for his family and friends.
Call Today
Contact Noosa Life Chiropractic and Massage now to schedule your first appointment!

Dr Roberto De Souza | 0409 570 246